We know what you did (online) this summer
When it comes to summer classes, students are increasingly choosing the convenience and flexibility of online learning.
In summer 2015, 30 percent of total credit hours were taken online at IU's seven campuses.
The percentage of credits taken online since 2011 has increased steadily, even as the total number of credit hours taken in summer has decreased slightly (see Table 1). Online credit hours have increased by 78 percent, while total credit hours taken have decreased by 3 percent.
TABLE 1 Summer official census credit hours taken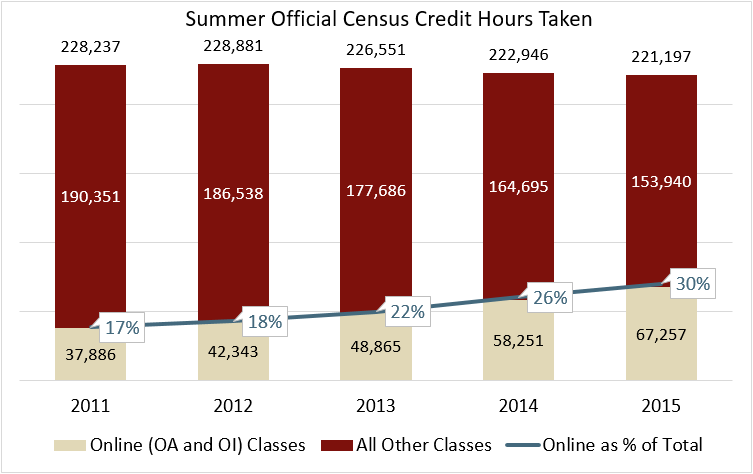 Enrollment numbers confirm that students increasingly are making online courses a part of their summer schedule. Thirty-seven percent of students enrolled in summer classes took at least one online class. Nearly one in four summer students took all of their classes online. This is an increase from what we saw in summer 2014 (see Table 2).
TABLE 2 Student headcount comparison

As we looked at enrollments, we compared the enrollment and capacity of more than 5,000 online and on-campus classes offered at the seven campuses this summer. (We eliminated classes with placeholder enrollment capacity values, such as 0, 999, and 9999.) Though the average enrollment cap was equivalent for the two types of classes, online classes tended to fill at a higher rate than on-campus classes (see Table 3).
TABLE 3 Comparison of class section enrollment and capacity

Which online classes are students taking? Here are the undergraduate online classes with the top five highest total enrollments this summer:
Core Campuses
HPER-N220 Nutrition for Health
SOC-R100 Introduction to Sociology
CSCI-N207 Data Analysis Using Spreadsheets
ECON-E201 Introduction to Microeconomics
POLS-Y103 Introduction to American Politics
Regional Campuses
BUS-A201 Introduction to Financial Accounting
ENG-W231 Professional Writing Skills
BUS-A202 Introduction to Management Accounting
ECON-E104 Introduction to Macroeconomics
BUS-P301 Operations Management
Based on these data, it is clear that students are increasingly incorporating online courses into their summer enrollments. Online credits are growing, online enrollments are growing, and online classes are filling faster. Even while overall enrollments and credit hours for summer classes are declining, online education is a growth opportunity for campuses and can play an essential part in other initiatives (like 15 to Finish) and keeping students eligible for full financial aid. While these trends are stronger for summer enrollments, similar growth can be seen in our fall and spring terms as well.
We want to help campuses expand their online offerings to support their enrollment goals. If you are interested in learning more about online education at IU, please contact cfoley@iu.edu.
"The numbers are very compelling. In summer 2015, one-third of IU's total credit hours came from online classes; nearly 40 percent of registered students took at least one online course; and online classes filled at a significantly higher rate than on-campus classes."
- OOE Director Chris Foley
More data regarding online education at IU is available in the CBI. Make sure you login, and expand the Student -> Online Education folder. Questions about the data? Please contact OOE Data Manager Sharon Wavle.
B.A.S. marketing rollout pays off
Awareness of IU's Bachelor of Applied Science is expanding thanks to the initial rollout of a marketing campaign over the summer.
This initial rollout targeted current Ivy Tech students within 15 credits of completing their Associate of Applied Science, as well as Ivy Tech A.A.S. alumni. Components of the campaign included digital advertising, email announcements, a brochure, tent cards, and announcements posted in Ivy Tech's student learning system. All of these components pointed prospective students to a landing page on the IU Online website.
The Office of Online Education coordinated the effort through Ivy Tech's central marketing office. In addition, it worked in close collaboration with advisors and admissions officers on IU's regional campuses, as well as with the UITS contact center, to provide immediate information and support to prospective students.
As of August 31, more than 400 prospective students had submitted direct inquiries to the Office of Online Education via the B.A.S. landing page. Seventy-one prospects had submitted admissions applications, and 56 had been admitted for the fall 2015 semester to the B.A.S. or some other degree program.
A second marketing campaign is scheduled to launch in mid-September. It will be aimed at Ivy Tech alumni, community college students in Kentucky, and target audiences in Chicago, Cincinnati, Detroit, Louisville, and St. Louis.
The goal is admit 100 qualified B.A.S. applicants by the end of this calendar year.
Can we chat?
Students have always been able to contact IU Online by phone or email, but now they can add "chat" to the list.
In collaboration with the UITS contact center, the Office of Online Education now provides a chat service that allows students to receive instantaneous information about IU's online courses and programs. "Chat" allows students and contact center customer service representatives (CSRs) to exchange real-time text messages over the Internet.
Within one week of its implementation in July, the chat function outpaced phone calls and emails as students' favorite means of communicating with the CSRs, and its use continues to grow.
"The chat function allows students to connect with us in real time. It's just one of the many ways we are working to provide just-in-time, high-quality services to current and prospective online students."
- OOE Director Chris Foley
Want to learn more about IU Online? Visit online.iu.edu and click on the chat icon.
Hail and farewell
Michael Rushton and Bill McKinney join the staff of the Executive Vice President for University Academic Affairs. Barbara Bichelmeyer, senior director for the Office of Online Education, is appointed as provost at the University of Missouri in Kansas City.
May we present?
The next time you go to a conference, take a look around. Your colleagues in the Office of Online Education (OOE) may be there, too.
OOE staff members are attending more and more conferences and events as participants, presenters, and exhibitors.
In May, OOE Senior Director Barbara Bichelmeyer, OOE Data Manager Sharon Wavle, and OOE Director Chris Foley made presentations at the AIR (Association for Institutional Research) Conference. Bichelmeyer and Wavle moderated the discussion session, "Defining Online Education: Driving Innovation with Better Data." Foley discussed "The Impact of Early College Credit on College Success: An Examination of Dual Enrollment and Its Implications for Colleges."
In July, Sharon Wavle presented an overview of IU's Online Education data definitions, coding standards, and sample reports at the IU Institutional Research Workshop.
Also in July, Chris Foley discussed "The Sources of College Engagement" at the ACT Enrollment Planners Conference.
In August, Chris Foley and Client Services Manager Lisa Denlinger staffed an IU Online booth at the Indiana State Human Resources conference.
Teaching online? Participate in a pilot
Our colleagues at Learning and Teaching Information Technologies are launching several pilots of new learning technologies this fall. Find out how to participate.
Venus Williams graduates
Congratulations to tennis star Venus Williams for earning an IU Online B.S. in Business Administration through the IU East campus.
IU faculty and staff benefit from OLC membership
IU faculty and staff are encouraged to reap the benefits associated with the Office of Online Education's purchase of a university-wide membership in the Online Learning Consortium.